Air Sea Battle is a 1977 action game released on the
Atari 2600
.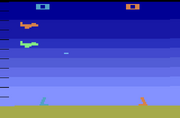 Mark
said that tanks are expendable. He compared it to Combat. He said it was a great two player game. He then showed us the cartridge design, including one that said "use with Paddle controllers" even though it doesn't use them. He noted that there was 27 different variations on the game. He recommended it.
Ad blocker interference detected!
Wikia is a free-to-use site that makes money from advertising. We have a modified experience for viewers using ad blockers

Wikia is not accessible if you've made further modifications. Remove the custom ad blocker rule(s) and the page will load as expected.