Alien Invaders - Plus! is a 1980 Arcade game released on the
Magnavox Odyssey²
.
Mark
said that he wasn't sure if there was an orginal Alien Invaders. He said that the scoring takes time to get used to. He said he likes the box art for it. He said the worst part was when you ran out of triangles, because you just ran back and forth waiting to be killed. He said it was challenging and recommended it.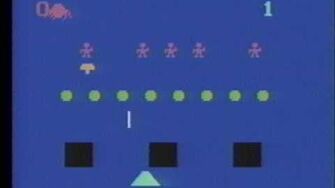 Ad blocker interference detected!
Wikia is a free-to-use site that makes money from advertising. We have a modified experience for viewers using ad blockers

Wikia is not accessible if you've made further modifications. Remove the custom ad blocker rule(s) and the page will load as expected.