The Atari 2600 is video game system released in 1977 by Atari. It is notable for causing the video game crash of 1983.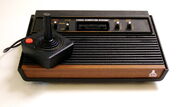 Mark has reviewed the Heavy Sixer, The Sears Tele-Games Video Arcade and the Jr. has been featured in some episodes. He also has reviewed the ColecoVision Expansion Module 1, which allows you to play Atari 2600 games on your ColecoVision. He has not reviewed the 4-Switch model.
Ad blocker interference detected!
Wikia is a free-to-use site that makes money from advertising. We have a modified experience for viewers using ad blockers

Wikia is not accessible if you've made further modifications. Remove the custom ad blocker rule(s) and the page will load as expected.