The Atari Jaguar is a 1993 games console released by Atari. It was a commercial failure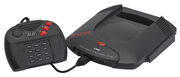 and was Atari's last home console.
The Game Room did not review the Atari Jaguar, but the did review two games,
Kasumi Ninja and Tempest 2000. It was noted in the Kasumi Ninja review that Mark sold his Jaguar for a blender and still had to pay $10 extra.
In 2014, Mark got another Jaguar. This means more games can be reviewed.
Ad blocker interference detected!
Wikia is a free-to-use site that makes money from advertising. We have a modified experience for viewers using ad blockers

Wikia is not accessible if you've made further modifications. Remove the custom ad blocker rule(s) and the page will load as expected.