Panasonic DVC Pro Deck is a look at how footage is recorded for Classic Game Room.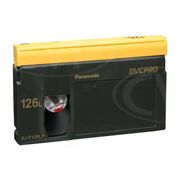 Mark
shows us the deck. He tells us that the equipment will be used until it dies. He then shows us a tape that has been used for many different things:
Ballblazer
,
Rolling Thunder
,
1943: The Battle of Midway
and
K.C. Munchkin Part 2
. He then shows us playing the tape. He shows us a second one which only works for Playback, showing us the upcoming review of
Test Drive Unlimited
. We then see a variety of tapes, which hold footage for reviews of
Soul Calibur IV
,
Red Faction Part 2
 and
Timesplitters: Future Perfect
. He then shows us the Video-Editing systems inputs from the deck. He then shows us the Hard Drive and the VCR, with VHS tapes of
K.C. Munchkin Part 1
and
Karateka
. He then shows us the camera tape and plugging it into the DVC Pro deck using an adapter.
Ad blocker interference detected!
Wikia is a free-to-use site that makes money from advertising. We have a modified experience for viewers using ad blockers

Wikia is not accessible if you've made further modifications. Remove the custom ad blocker rule(s) and the page will load as expected.