RE:20 Microphone Audio Recording is a look Behind the Scenes at how Classic Game Room records audio.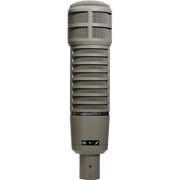 Mark said that is made in the USA. He notes it uses XLR cables and that it provides a nice low background noise. He then shows us the Mixing Board, which is an Radioshack SSM-1200. He recommends the equipment.
Ad blocker interference detected!
Wikia is a free-to-use site that makes money from advertising. We have a modified experience for viewers using ad blockers

Wikia is not accessible if you've made further modifications. Remove the custom ad blocker rule(s) and the page will load as expected.