Bionic Commando: Rearmed is a 2008 Platformer released on the
Xbox 360
.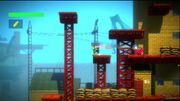 Mark
shows us the original
Bionic Commando
. He says it's an incredible remake, probably the best remake ever. He said he was incredibly excited when he heard about the game. He said they've improved it massively. He said when he beat the original he sent a picture to Nintendo Power magazine but they never printed it. He said it should be a game of the year award. He said he likes the music because it's just the original but updated. He also likes the controls and the fact you can throw barrels at people. He notes it costs a quarter of a full retail release. He said that the end bosses were clever. He recommends it.
Mark said that it was the best remake he'd ever played. He said the music was brilliant. He noted the cheap price that they are selling it for now. He said that it requires a great deal of skill to complete. He also said he was pleased with himself because he mastered the bionic arm again. He recommended it and said it was a lot of fun. He also noted the free trial.
Ad blocker interference detected!
Wikia is a free-to-use site that makes money from advertising. We have a modified experience for viewers using ad blockers

Wikia is not accessible if you've made further modifications. Remove the custom ad blocker rule(s) and the page will load as expected.