Bowling! is a 1978 Sports game released on the Magnavox Odyssey².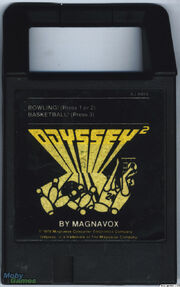 Mark
said that it was included with
Basketball!
. He said
Atari's bowling
had better physics and collision detection. He said he doesn't like to make fun of old school games, but this leaves him no choice. He then explains the gameplay. He said that they didn't have many third-parties making games. He shows us the instruction manual. He tells us that he only paid 5 cents for it. He said that you should pass on it.
Ad blocker interference detected!
Wikia is a free-to-use site that makes money from advertising. We have a modified experience for viewers using ad blockers

Wikia is not accessible if you've made further modifications. Remove the custom ad blocker rule(s) and the page will load as expected.