Capcom Vs. SNK: Millennium Fight 2000 is a 2000 fighting game released on the
Sega Dreamcast
.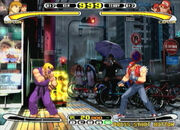 Mark
said that the year 2000 was a lot time ago. He said it was an excellent fighting game that will entertain you. He said the game looks beautiful, and back on The Game Room they reviewed a lot of Dreamcast fighters. He noted you could pick up the system and the game for the same price as a new Xbox or Playstation game. He likes the secret mode. He said the controls are a bit lacking. He said he wants a Capcom Vs. Namco. He recommends it.
Ad blocker interference detected!
Wikia is a free-to-use site that makes money from advertising. We have a modified experience for viewers using ad blockers

Wikia is not accessible if you've made further modifications. Remove the custom ad blocker rule(s) and the page will load as expected.