In this video,
Mark
picks up a
Super Nintendo
.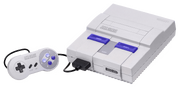 He said the Sega Saturn video may have overshadowed it, but they also picked up a Super Nintendo. He said it now means they'll be making Super Nintendo game reviews. He then shows us some games he's picked up, such as Super Star Wars. He said that many people thought that he owned every console ever, but he never owned this one. He therefore said he's a complete novice to the system and he was very excited. He did say that he didn't like the controller or the main buttons.
Ad blocker interference detected!
Wikia is a free-to-use site that makes money from advertising. We have a modified experience for viewers using ad blockers

Wikia is not accessible if you've made further modifications. Remove the custom ad blocker rule(s) and the page will load as expected.