Cloudy With A Chance Of Meatballs is a 2009 Action game released on the
Nintendo Wii
.
Mark
said that the music sounds like it's from Batman. He said all the characters from the film are in this game. He also said it's a big budget game. He noted it wasn't a challenging game for serious gamers. He said you can play two player co-op. He also said you aren't forced to use the
Wii remote
. He noted it was a fun kids game. He said you can take a hacksaw to gummybears. He recommended it.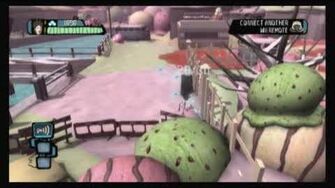 Ad blocker interference detected!
Wikia is a free-to-use site that makes money from advertising. We have a modified experience for viewers using ad blockers

Wikia is not accessible if you've made further modifications. Remove the custom ad blocker rule(s) and the page will load as expected.