Contra: ReBirth is a 2009 Action game released on the
Nintendo Wii
.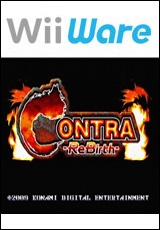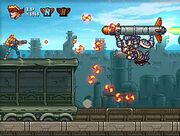 Mark
said that it had awesome music and a great plot. He said the
original
was one of his favourite
NES
games
. He also said you have to concentrate because of how many things are on screen at one time. He noted that there was some nods to Aliens. He said you can play two playe co-op. He also said the game doesn't take itself seriously. He noted that he had a lot of fun playing it. He recommends it and many other titles on the Wii Shop Channel.
Ad blocker interference detected!
Wikia is a free-to-use site that makes money from advertising. We have a modified experience for viewers using ad blockers

Wikia is not accessible if you've made further modifications. Remove the custom ad blocker rule(s) and the page will load as expected.