Contra is a 1988 game for the Nintendo Entertainment System based off the 1987 arcade game of the same name.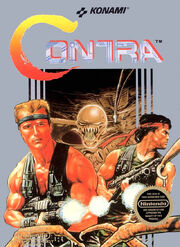 On the 7th March 2000 The Game Room reviewed Contra. It was the valentine's day special. They said they didn't even need to talk about as everybody already knows it was good. They said it was better than most new games. They also said it was the best 2d shooter on the NES.
Ad blocker interference detected!
Wikia is a free-to-use site that makes money from advertising. We have a modified experience for viewers using ad blockers

Wikia is not accessible if you've made further modifications. Remove the custom ad blocker rule(s) and the page will load as expected.