Darius Gaiden is a 1996 SHUMP released on the
Sega Saturn
.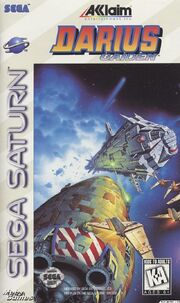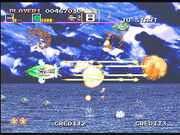 Mark
said that sea creatures are out for vengeance. He said the Saturn didn't have a long lifespan, but it was well known for it's spaceship shooters. He also said it was fluid and smooth. He likes the music and graphics. He said it has the greatest end boss he'd ever seen. He also said it was so good he needed to split it in two. He then expained the gameplay and HUD. He said it was very affordable now.
Mark said that the game starts off with a intro sequence. He said it's worth picking up a Saturn for, and notes it plays like a choose your own adventure. He said if your ships not maxed out you will lose the later levels. He then explains powerups and shields. He said the end bosses and music repeat themselves. He recommends it.
Ad blocker interference detected!
Wikia is a free-to-use site that makes money from advertising. We have a modified experience for viewers using ad blockers

Wikia is not accessible if you've made further modifications. Remove the custom ad blocker rule(s) and the page will load as expected.