Dead Or Alive: Xtreme 2 is a 2006 Sports/Casino game released on the
Xbox 360
.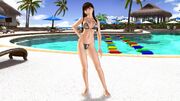 It starts off with a gameplay montage, then
Mark
tells us that he expected it to be a fighting game. He noted the butt battle mode.He hates the music to the game, his biggest complaint is that it doesn't do one thing well. He was also confused by the dress up mode, but said it was a well programmed game. He was also surprised with the camera mode and the price brand new. His favourite part of the game is the gambling. He didn't recommend it. It ends with another gameplay montage with a creepy ending.
Ad blocker interference detected!
Wikia is a free-to-use site that makes money from advertising. We have a modified experience for viewers using ad blockers

Wikia is not accessible if you've made further modifications. Remove the custom ad blocker rule(s) and the page will load as expected.