DOOM is a 1995 First-Person Shooter released on the
Super Nintendo
.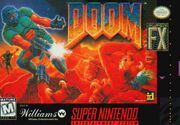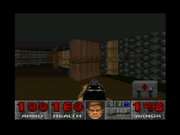 Mark
said that it has a great title. He said it was released on many different game systems. He also said he didn't like this version. He notes that the game cartridge is red. He said that you can't see the bad guys and that there is a half-second delay between pressing a button and what happens on screen. He also said it is unplayable today. He notes that you don't aim up and down. He said that the game doesn't fill the whole screen. He recommended it if you need to play DOOM and can't find any other versions of it.
Ad blocker interference detected!
Wikia is a free-to-use site that makes money from advertising. We have a modified experience for viewers using ad blockers

Wikia is not accessible if you've made further modifications. Remove the custom ad blocker rule(s) and the page will load as expected.