Double Dragon is a 1987 action game released on the
Sega Master System
.
Mark
said that everyone played it on the NES back in the day. He said this version however was not good. He hated the collision detection, graphics, flickering and sound. He said back in the day you got different versions of the games for different consoles. He said the flicker was horrible, especially in the two player mode. He also said hitting people was just luck. He said you should get
Streets of Rage
instead.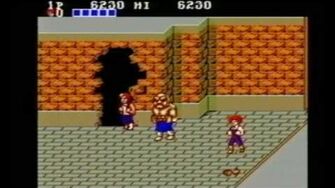 Ad blocker interference detected!
Wikia is a free-to-use site that makes money from advertising. We have a modified experience for viewers using ad blockers

Wikia is not accessible if you've made further modifications. Remove the custom ad blocker rule(s) and the page will load as expected.