Driver: You Are The Wheelman is a Video Game released in 1999 for the
Playstation 1
. In it you play as Undercover NYPD Detective John Tanner to take down a crime syndicate.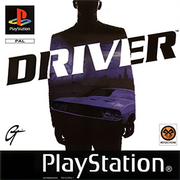 Mark and Dave call it one of the best games currently for the Playstation 1, but note that the driving is not as good as Gran Turismo's. Dave points out that in all the footage, Mark was driving and that the bank robber's are not in a hurry to get out of the bank. they also point out that the game would be better if you could pimp out your car.
Ad blocker interference detected!
Wikia is a free-to-use site that makes money from advertising. We have a modified experience for viewers using ad blockers

Wikia is not accessible if you've made further modifications. Remove the custom ad blocker rule(s) and the page will load as expected.