F1: Championship Edition is a 2007 Racing game released on the
Playstation 3
.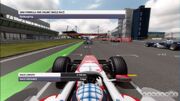 It starts off with a gameplay montage. 
Mark
said that he knows nothing about F1 racing. He does however say that he loves racing games. He said it's much faster and precise and this makes it challenging. He says that the tracks are well detailed. He said it's an excellent driving game if your going to playing it for a while. He said that usually when he plays a game to review he plays on Medium. This game required him to play on Easy and turn damage off. He says that you are involved with the pit stops. He noted that he spent a long time in qualifying and not actually racing so for the footage he played a lot in quick race mode. He then compares it to
Super Monaco GP
. He recommended it.

Ad blocker interference detected!
Wikia is a free-to-use site that makes money from advertising. We have a modified experience for viewers using ad blockers

Wikia is not accessible if you've made further modifications. Remove the custom ad blocker rule(s) and the page will load as expected.