Far Cry 2 is a 2008 First-Person Shooter released on the
Xbox 360
.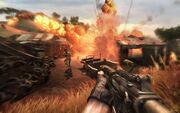 Mark
said that you can marvel at the beauty of the game, while destroying it. He said he likes real life enviroments. He also said the action didn't live up to the detail. He noted that the AI was stupid. He explains his strategy. He recommended it.
Mark said that it's a very affordable game. He then explains what he's doing. He said the gameplay does get boring. He recommended it.
Ad blocker interference detected!
Wikia is a free-to-use site that makes money from advertising. We have a modified experience for viewers using ad blockers

Wikia is not accessible if you've made further modifications. Remove the custom ad blocker rule(s) and the page will load as expected.