Fear Effect is a game released in 1999 for the Playstation 1 .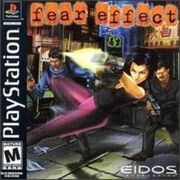 The Game Room reviewed the game in March 2000. They said that they both enjoyed the game.
Dave
said it was just a bit too short and it did have some faults such as the load times.
Mark
said it had good graphics. They noticed that it ripped off Blade Runner. They recommended it for a rental.
Ad blocker interference detected!
Wikia is a free-to-use site that makes money from advertising. We have a modified experience for viewers using ad blockers

Wikia is not accessible if you've made further modifications. Remove the custom ad blocker rule(s) and the page will load as expected.