Freedom Fighters! is a 1982 SHUMP released on the
Magnavox Odyssey²
.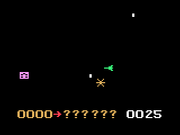 Mark
said that it is one of the best games on the system. He shows us the cartridge and instruction manual. He then reads out the story. He notes you can enter your name as a high score. He recommends it.
Ad blocker interference detected!
Wikia is a free-to-use site that makes money from advertising. We have a modified experience for viewers using ad blockers

Wikia is not accessible if you've made further modifications. Remove the custom ad blocker rule(s) and the page will load as expected.