Frogger is a 2006 Overhead view action game released on the
Xbox Live Arcade
.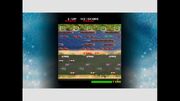 Mark
said that it was easy to pick up but difficult to master. He then explained the gameplay. He said it's on pretty much every console ever. He said it's the closest to the Arcade version as possible. He said it isn't very realistic. He recommends it.
Ad blocker interference detected!
Wikia is a free-to-use site that makes money from advertising. We have a modified experience for viewers using ad blockers

Wikia is not accessible if you've made further modifications. Remove the custom ad blocker rule(s) and the page will load as expected.