Galaga is a 1987 fixed shooter for the
Atari 7800
.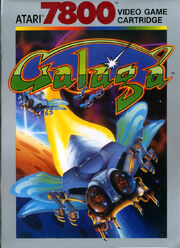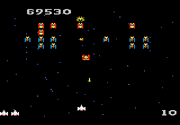 Mark
said that he prefered the
Atari 7800
version compared to the
Xbox Live version
because it was slower so it meant that it lasted longer and that made it more challenging. He liked the double spaceship feature because it was fun. He also liked the music used during the game and also liked how it got more challenging as you went on. He even recommended picking up the Atari 7800 system just for the game.
Mark said that Atari 7800 boxes are like Atari 2600 boxes, but in silver. He said that the cartridge and instruction manual is bland, boring and black & white, which was used for cost-cutting. He recommended it.