Gekioh Shooting King is 2002 Vertical scrolling shooter on the
Playstation 1
.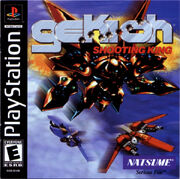 Mark
said that the soundtrack was amazing. He said it was fun, and was also quite cheap. He enjoyed the electric weapon. He noted that when he was capturing on the
Playstation 3
, their was no music in the background, but their is if you play on a PS1 or PS2. He said the best part was the bonus mode with the different types of visuals for the game. He said this is what made the game worth picking up.
Ad blocker interference detected!
Wikia is a free-to-use site that makes money from advertising. We have a modified experience for viewers using ad blockers

Wikia is not accessible if you've made further modifications. Remove the custom ad blocker rule(s) and the page will load as expected.