Gran Turismo 2 is a 1999 racing game on the
PlayStation 1
.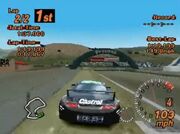 The Game Room reviewed it on January 4th 2000.
Mark
said it was the best game of 1999, and that they split the game into cities.
Dave
said the gloss seems to be exaggerated. They like the graphics but said it was weird after playing Sega Rally 2 on the
Dreamcast
.
Although Classic Game Room itself had never reviewed the game, Mark was at the time, calling The Game Room, "The Classic Game Room" and therefore, that is why Part 2 exists. He said he was surprised that he found his memory card. He said it was one of his favourite tracks and wondered why it hasn't been brung back. He said the track was challenging. He said he liked the music in the game. He said that it's perfect for four-wheel drive cars.
Mark said that the track was excellent but it had just vanished. He said it was similar to High Speed Ring, but much better. He said he wants it back.
Mark said that he's lost track of how many cars are in the game. He said you can clearly see they made it much larger in Gran Turismo 5: Prologue. He said a time of 1 minute would be inhuman in the Gran Turismo 5 version. He said it was the first track to master. He said the analog thumbstick was nessesary for the game.