Grand Theft Auto: Vice City is a 2002 open-world action adventure game released on the
Playstation 2
.
The review starts off with a montage of gameplay set to "I Ran" by a Flock of Seagulls. (Not in rereleased version). 
Mark
said it was one of the best game ever released on the Playstation 2. He said he loved the story, and if you're a well-adjusted human being with a sense of what's right and wrong, you can have fun with the game. He said he's a huge fan of the Grand Theft Auto series since day one. He praised the design of the cities and the controls of the game. He recommended the game but said you've probably played it.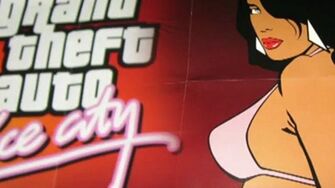 Ad blocker interference detected!
Wikia is a free-to-use site that makes money from advertising. We have a modified experience for viewers using ad blockers

Wikia is not accessible if you've made further modifications. Remove the custom ad blocker rule(s) and the page will load as expected.