Guitar Hero III Wireless Controller is the guitar needed to play
Guitar Hero III
on the
Xbox 360
or
Playstation 3
.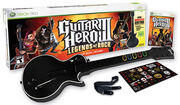 Mark said that it was so big he had to pan the camera. He said he knew nothing about guitars, but had heard of Gibson. He also noted you can plug your headset into. He notes it runs on batteries. He recommends it.

Ad blocker interference detected!
Wikia is a free-to-use site that makes money from advertising. We have a modified experience for viewers using ad blockers

Wikia is not accessible if you've made further modifications. Remove the custom ad blocker rule(s) and the page will load as expected.