Halo 3 is a 2007 first person shooter released for the
Xbox 360
.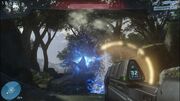 Mark
said that you probably own the game if you own a Xbox 360. He said it was the modern day version of Pac-Man due to how popular it is. He said that the strength of the game was the multiplayer, and that was why he bought it, so he could play with his old buddies. He says he hopes the series will be remembered in the future. He also said it was very impressive. He had a minor criticism of the fact that the shields regenerated in multiplayer, and when Cortana appeared on your screen in the singleplayer story, slowing you down. He recommended it. 
Ad blocker interference detected!
Wikia is a free-to-use site that makes money from advertising. We have a modified experience for viewers using ad blockers

Wikia is not accessible if you've made further modifications. Remove the custom ad blocker rule(s) and the page will load as expected.