Haze is a 2008 First-Person Shooter released on the
Playstation 3
.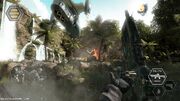 Mark
said that it was an interesting game developed by his favourite game company, Free Radical, but said that he almost returned the game because of the intro. He noted that it did get better however, because it had a thought provoking plot, and the game grew on him. He also noted the cliché vehicle segments and the fact that some audio was bleeped by the game. He also said that it had a standard variety of weapons. He said that he found the single player interesting, and told us to watch Part 2.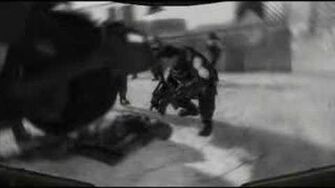 Mark said that they were going to get into the Good, Bad and Ugly of the game. He noted that the main character switches sides. He did say that the storyline slows down and was surprised when people said that they hated the game in the comments of the first review, as he enjoyed it. Also he said that the driving and piloting sucks and that it was repetitive. He then shows us that parts of the level don't load up, so they fall into nothing. He says it was rushed before release and recommended it as a rental. He recommended Timesplitters: Future Perfect over it.
Ad blocker interference detected!
Wikia is a free-to-use site that makes money from advertising. We have a modified experience for viewers using ad blockers

Wikia is not accessible if you've made further modifications. Remove the custom ad blocker rule(s) and the page will load as expected.