How to Buy & Hook Up An Atari 2600 was a video explaining How to Hook Up the
Atari 2600
to a modern television.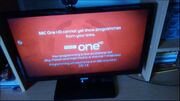 Mark said that it was a beginners guide to buying the system. He said the best looking one was the wood-grained model. He says the Atari 2600 Jr. is a better one for new collectors. He says make sure to check if it works and if it comes with a power supply. He says don't plug it in overnight or around the clock. He recommends the Atari 7800 as it is newer and plays more games. He says there are some myths such as the PS3 controller working with it, but the Sega Genesis controller does. He said it was difficult to connect to modern televisions, because it requires an RF Converter. He says you take a RCA cable and then put it into a Radioshack adapter to make it RF/Coaxial. You then run it into a VCR into Composite video cables to your modern TV. He said it was pretty simple. He recommends get the games in bulk lots on Ebay.

Ad blocker interference detected!
Wikia is a free-to-use site that makes money from advertising. We have a modified experience for viewers using ad blockers

Wikia is not accessible if you've made further modifications. Remove the custom ad blocker rule(s) and the page will load as expected.