I MAED A GAM3 W1TH ZOMBIES 1N IT!!!1 is a 2009 Action game released on the
Xbox 360
.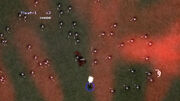 Mark
said that it was like someone took
Robotron: 2084
, and dropped it into a rock concept. He likes the music. He notes that the enemies change every time you play the game. He said it was available for $1. He likes the weapon powerups. He said if you want
iDracula
and
Minigore
on the
Xbox 360
, get this. He recommended it.
Ad blocker interference detected!
Wikia is a free-to-use site that makes money from advertising. We have a modified experience for viewers using ad blockers

Wikia is not accessible if you've made further modifications. Remove the custom ad blocker rule(s) and the page will load as expected.