Joust is a 2005 platformer released on the
Xbox Live Arcade
. It has since been removed from the store.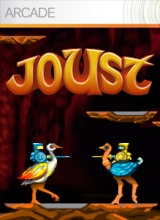 Mark
 noted that it was the fourth version that he had reviewed for the show. He says it's the best home console version he's ever played and that this one actually gives you a background. He notes that it outputs in High Definition with the Xbox 360 version. He also notes the gamerscore and also that the
Xbox 360 Controller
sucks for arcade games.
Ad blocker interference detected!
Wikia is a free-to-use site that makes money from advertising. We have a modified experience for viewers using ad blockers

Wikia is not accessible if you've made further modifications. Remove the custom ad blocker rule(s) and the page will load as expected.