Link's Crossbow Training is a 2007 action game released on the
Nintendo Wii
.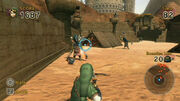 Mark
said that he picked up the
Wii Zapper
, and noted that it came with this. He thought it would be a throwaway game, but was pleasantly surprised. He said it had a lot in it. He also said it was very kid friendly. He noted that the scoring was based on combos. He said if it's the only game you get for the Zapper it will keep you ocuppied for a long time. He recommended it.
Ad blocker interference detected!
Wikia is a free-to-use site that makes money from advertising. We have a modified experience for viewers using ad blockers

Wikia is not accessible if you've made further modifications. Remove the custom ad blocker rule(s) and the page will load as expected.