The Mad Catz Xbox 360 Arcade Joystick is a 2006 controller released for the
Xbox 360
.
Mark said that a number of classics are on Xbox Live Arcade so you need a Arcade Joystick. He tells us he's superglued it to a block of wood as it keeps moving around. He notes that it has everything you need to play Xbox 360 games. He didn't like the Spinner mode or the Joystick itself. He said it's affordable because it's not wireless, but noted it was quite flimsy. He didn't recommend it.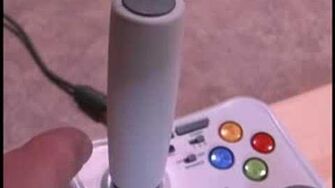 Ad blocker interference detected!
Wikia is a free-to-use site that makes money from advertising. We have a modified experience for viewers using ad blockers

Wikia is not accessible if you've made further modifications. Remove the custom ad blocker rule(s) and the page will load as expected.