Madworld is a 2009 action game released on the
Nintendo Wii
.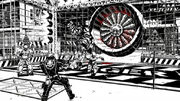 Mark
said that it was the feel good hit of the super. He said many people are complaining about no violent games on the
Wii
, so this is the answer. He also said it pushes the
Wii
(and the ESRB) to it's limits. He noted it was very cartoonish with it's violence. He said many games like this should be on other systems. He recommends it.
Ad blocker interference detected!
Wikia is a free-to-use site that makes money from advertising. We have a modified experience for viewers using ad blockers

Wikia is not accessible if you've made further modifications. Remove the custom ad blocker rule(s) and the page will load as expected.