The Odyssey² Controllers are Controllers released in 1978 for the
Magnavox Odyssey²
.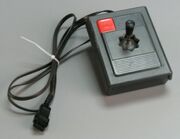 Mark said that the joystick pulls back with some force. He notes you don't get any feet with it. He doesn't like the ridges in the joystick and he doesn't like the fact they are hardwired. He likes the action button.
Ad blocker interference detected!
Wikia is a free-to-use site that makes money from advertising. We have a modified experience for viewers using ad blockers

Wikia is not accessible if you've made further modifications. Remove the custom ad blocker rule(s) and the page will load as expected.