In this video
Mark
attempts to hookup an
Magnavox Odyssey²
to play and review games.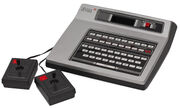 Mark said that is lighter than the Atari 2600, but it feels cheap. He notes that it hardwired controllers. He said the plug feels flimsier. He then hooks it up to a TV via a VCR. He says he is filming with two cameras, and the first game he is going to play is K.C. Munchkin.
Mark wonders how you select a game on it. He tries the Enter and Reset buttons. He finds out it is the 1 key. He said that the controllers remind him of old computer joysticks. He tells us to wait for more reviews.

Ad blocker interference detected!
Wikia is a free-to-use site that makes money from advertising. We have a modified experience for viewers using ad blockers

Wikia is not accessible if you've made further modifications. Remove the custom ad blocker rule(s) and the page will load as expected.