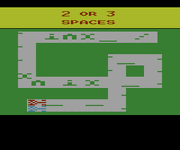 Math Gran Prix is a 1982 video game for the Atari 2600. It was reviewed by Edit-Station 1.
In Episode 5 Of
The Game Room
Season Two, Edit-Station 1 reviews Math Gran Prix. At first he does not realize that it is a Math's game, but when he does it causes him to spurt out "I'm A computer, not a f**king calculator!". Upon playing this game for too much it causes him to die and go to heaven, where he dreams about beer.
Ad blocker interference detected!
Wikia is a free-to-use site that makes money from advertising. We have a modified experience for viewers using ad blockers

Wikia is not accessible if you've made further modifications. Remove the custom ad blocker rule(s) and the page will load as expected.