Metal Gear Solid 4: Guns Of The Patriot is a 2008 Action game released on the
Playstation 3
.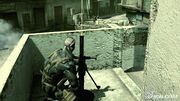 Mark
said that it was meant to be a stealth game, but you can play it like an action game. He said that the plot is excellent. He also said the cutscenes were too long. He praised it's controls and gameplay. He liked the upgrade features. He said it was very affordable now. He recommends it.
Ad blocker interference detected!
Wikia is a free-to-use site that makes money from advertising. We have a modified experience for viewers using ad blockers

Wikia is not accessible if you've made further modifications. Remove the custom ad blocker rule(s) and the page will load as expected.