NCAA Football 10 is a 2009 Sports game released on the
Playstation 3
.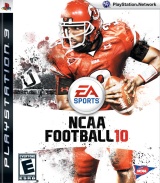 Mark
said that he was playing his college buddies in the review, who had some comments, so he'll pass their comments on. He said it was very similar too
Madden
. His friends say that they don't like the cheerleaders, but do like the announcer. They also say that the menus have been improved. He said that it feels like a college experience. He praises the graphics for the players, but the crowd looks horrible and is very choppy. He shows us more gameplay and recommends it.
Ad blocker interference detected!
Wikia is a free-to-use site that makes money from advertising. We have a modified experience for viewers using ad blockers

Wikia is not accessible if you've made further modifications. Remove the custom ad blocker rule(s) and the page will load as expected.