The NES Action Set is a 1990 Game Console released by Nintendo.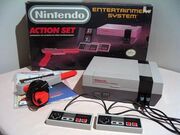 Mark said that his original NES has died. So he was forced to find another system. He notes that it comes with an instruction manual for the NES Zapper. He shows us the poster, Super Mario Bros./Duck Hunt and the system. He said everyone should unbox an old system, as it's fun to do.
Mark compared it to the 3DS's packaging. He said it was very loud and easy to spot on a shelf. He also said it tells you the games that are coming out and the hardware. He noted that the manual is quite short. He prefered it to the 3DS's Packaging.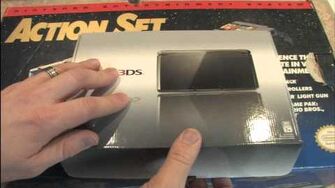 Ad blocker interference detected!
Wikia is a free-to-use site that makes money from advertising. We have a modified experience for viewers using ad blockers

Wikia is not accessible if you've made further modifications. Remove the custom ad blocker rule(s) and the page will load as expected.