NES Cartridge Design is the design of the Cartridge for the
NES
.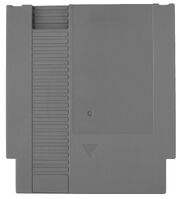 Mark shows us the game cartridge for Robocop, Ikari Warriors, Metroid, Super Mario Bros./Duck Hunt, Kung Fu, Gradius, Ninja Gaiden, Star Soldier, Thunderbirds, 1943: The Battle of Midway, Teenage Mutant Ninja Turtles, Zanac, Airwolf, Blaster Master, Pinball Quest, Rolling Thunder and Bionic Commando. He notes that it tells you how to store cartridges on the back of it and the fact that Atari games didn't do that.
Ad blocker interference detected!
Wikia is a free-to-use site that makes money from advertising. We have a modified experience for viewers using ad blockers

Wikia is not accessible if you've made further modifications. Remove the custom ad blocker rule(s) and the page will load as expected.