Omega Boost is a 1999 rail shooter released on the
Playstation 1
.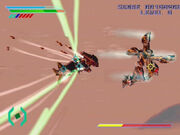 Mark
said it was a fun game. He also noted it was a ripoff because they liked it because it did it well.
Dave
said he enjoyed the sound effects in the game. Mark noted that although it was a ripoff, the bosses were interesting. Mark said you really want to play it with a subwoofer. Dave noted that it was quite hard. They recommended it. It then ends with the title sequence to the game.
Ad blocker interference detected!
Wikia is a free-to-use site that makes money from advertising. We have a modified experience for viewers using ad blockers

Wikia is not accessible if you've made further modifications. Remove the custom ad blocker rule(s) and the page will load as expected.