Outlaw is a 1981 shooter released on the
Atari 2600
.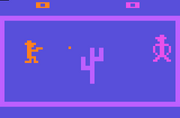 The review starts off with some old black & white stock footage. Then
Mark
says that America was so unstable that you could be shot for standing on the wrong side of the catcus. He then says that it is one of the best games on the Atari 2600. He notes how many modes it has. He then goes over the fake history of the game.
Ad blocker interference detected!
Wikia is a free-to-use site that makes money from advertising. We have a modified experience for viewers using ad blockers

Wikia is not accessible if you've made further modifications. Remove the custom ad blocker rule(s) and the page will load as expected.