Pac-Man is a 1982 Maze game released for the
Atari 2600
.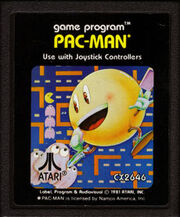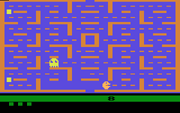 Mark
said that it was horrible, and that he can't think of a worst game than the Atari. He said that the arcade version of Pac-Man was much better, and
Ms. Pac-Man's Atari
port was better than this. His biggest complaint was that he couldn't see when the ghosts stopped blinking, after you eat a power pellet, so you can't time your attack. You can barely see that they are different colours. He noted that he has five copies, and he wasn't even trying to get the game.
Ad blocker interference detected!
Wikia is a free-to-use site that makes money from advertising. We have a modified experience for viewers using ad blockers

Wikia is not accessible if you've made further modifications. Remove the custom ad blocker rule(s) and the page will load as expected.