Pit-Fighter is a 1991 Fighting game released on the
Sega Genesis
.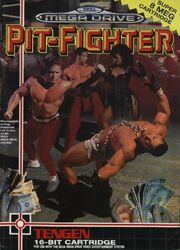 Mark
said that it's so bad, it's good. He said it's a very cheesy game and said it's aged very poorly. He also said it's a button masher. He noted it was a good game to play with the
Arcade stick
. He said if your good at
Streets Of Rage
, you'd be good at this. He also said the computer isn't very challenging, and is a great party game. He noted it was very similar to
Kasumi Ninja
. He recommended it.
Ad blocker interference detected!
Wikia is a free-to-use site that makes money from advertising. We have a modified experience for viewers using ad blockers

Wikia is not accessible if you've made further modifications. Remove the custom ad blocker rule(s) and the page will load as expected.