The pointmaster controller is a controller released in 1990 for the
Atari 2600
.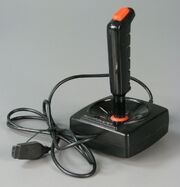 Mark said that many third-party controllers were available. He said it was massive. He said he prefered the original controller more as this one was too big. He said the base was the same size as the standard Atari controller. He said it had a wide range of motion. He said it wasn't a bad controller if the base was better.
Ad blocker interference detected!
Wikia is a free-to-use site that makes money from advertising. We have a modified experience for viewers using ad blockers

Wikia is not accessible if you've made further modifications. Remove the custom ad blocker rule(s) and the page will load as expected.