Reactor is a 1982 Arcade game released on the
Atari 2600
.
Mark
said that it was tucked away in his Atari collection. He said he originally did not like reactor, but that was because he didn't understand it. He then explained the gameplay. He noted that you can deploy decoys. He said that there was some interesting physics going on. He then said it was video game art in it's purest form. He also said it was a shame it wasn't more well known. He said he's putting it near the front of his collection and recommends it.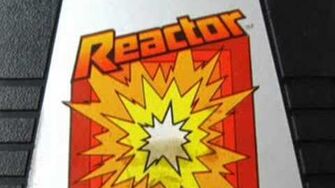 Ad blocker interference detected!
Wikia is a free-to-use site that makes money from advertising. We have a modified experience for viewers using ad blockers

Wikia is not accessible if you've made further modifications. Remove the custom ad blocker rule(s) and the page will load as expected.