Robotron: 2084 is a fixed shooter emulated on the
Playstation 1
, through the
Williams Arcade Greatest Hits Disc
.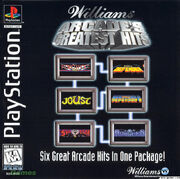 Mark
said that if he had his way, he would make a holiday called Robotron day. He also noted the interviews and bonus features on the disc. He notes the great emulation, but says that because it was made for the original Playstation, you use the D-Pad and face buttons. He said he hopes to get better at it and asks for help to defeat the tanks. He recommends it.
Ad blocker interference detected!
Wikia is a free-to-use site that makes money from advertising. We have a modified experience for viewers using ad blockers

Wikia is not accessible if you've made further modifications. Remove the custom ad blocker rule(s) and the page will load as expected.